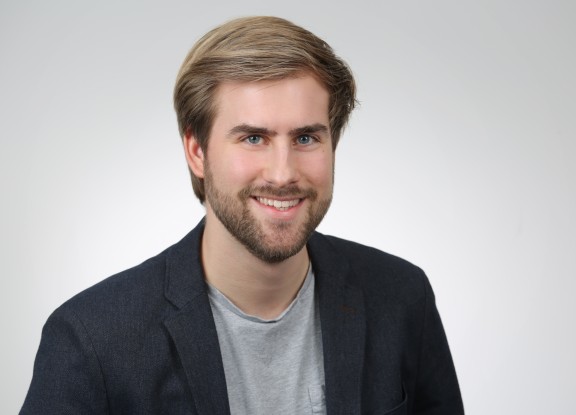 Member of the Research Training Group CRITIS from 10/2016 to 09/2019
Contact
dombois@kritis.tu-...
Affiliation
Dept. 13: Civil and Environmental Engeneering
Institute of Numerical Methods and Informatics in Civil Engineering
Research Interests
Critical Infrastructures and Emergency Information Management

Modeling and analyzing dynamic networks
Cascading effects
Communication networks

Data Mining and Machine Learning

Extraction and processing of information and knowledge from structured and unstructured data
Automated collection of sensor data

Indoor Tracking and Navigation

Usage of mobile devices
Integration of digital building models
Use of various sensors such as Wi-Fi, Bluetooth LE or inertial sensors
Sensor fusion

Building Information Modeling (BIM)
PhD Project
Multilayer graph networks for modeling and analyzing exercise scenarios in civil protection and disaster response
Considering the emergency sector as critical infrastructure and with reference to the concepts of preparedness & prevention as well as criticality, the dissertation examines to what extent software applications can be used to support exercises in civil protection and disaster response. A social network theory approach is followed and the attempt is made to model and investigate scenario-based exercises as dynamic networks of different types of relationships. The work also addresses the dual role of the emergency sector in the system of infrastructures and the importance of the exercise for the sector.
The aim of the dissertation is to examine the potential of social network analysis for the planning and evaluation of exercises and to consider the resulting requirements for software systems and organizations in practice. For this purpose, a concept for a network-based support software is designed, implemented and tested in different disaster control exercises.
Number of items: 13.
2020
Dombois, Marcus (2020):
Multilayer graph networks for modeling and analyzing exercise scenarios in civil protection and disaster response.
In: Berichte des Instituts für Numerische Methoden und Informatik im Bauwesen, 03/2020, Düren, Shaker Verlag, TU Darmstadt, ISBN 978-3-8440-7556-4,
[Ph.D. Thesis]

Dombois, Marcus (2020):
Multilayer graph networks for modeling and analyzing exercise scenarios in civil protection and disaster response.
In: Berichte des Instituts für Numerische Methoden und Informatik im Bauwesen, 2020,3, 1. Auflage, Düren, Shaker Verlag, ISBN 978-3-8440-7556-4,
DOI: 10.25534/tuprints-00013149,
[Book]

2019
Engels, Jens Ivo ; Monstadt, Jochen ; Dombois, Marcus ; Frank, Sybille ; Stahlhut, Chris ; Enders, Tina
Engels, Jens Ivo (ed.) Graduiertenkolleg KRITIS, TU Darmstadt (Corporate Creator) (2019):
Urban Infrastructures: Criticality, Vulnerability and Protection. Report of the International Conference of the Research Training Group KRITIS at Technische Universität Darmstadt, Germany.
Darmstadt, Urban Infrastructures: Criticality, Vulnerability and Protection, Technische Universität Darmstadt, 07.-08.02.2019, [Conference or Workshop Item]

2018
Bittner, Timo ; Eller, Christian ; Dombois, Marcus ; Rüppel, Uwe (2018):
BIM-unterstützte Erstellung interaktiver, immersiver VR-Szenarien am Beispiel der Brandbekämpfung.
In: Bauphysik, 40 (6), pp. 410-415. Ernst & Sohn Verlag für Architektur und technische Wissenschaften GmbH & Co. KG, ISSN 01715445,
DOI: 10.1002/bapi.201800028,
[Article]

Bittner, Timo ; Eller, Christian ; Dombois, Marcus ; Rüppel, Uwe
von Both, Petra ; Wagner, Andreas (eds.) (2018):
BIM-unterstützte Erstellung interaktiver, immersiver VR-Szenarien am Beispiel der Brandbekämpfung.
7, In: BauSIM2018 - 7. Deutsch-Österreichische IBPSA-Konferenz,
Karlsruhe, KIT, IBPSA-Konferenz, Karlsruhe Deutschland, 26.-28. September 2018, DOI: 10.5445/IR/1000085743,
[Conference or Workshop Item]

Engels, Jens Ivo ; Lukitsch, Kristof ; Müller, Marcel ; Stahlhut, Chris ; Eifert, Stephanie ; Knauf, Alice ; Thiessen, Nadja ; Elsner, Ivonne ; Huck, Andreas ; Marathe, Manas ; Crespo, Arturo ; Dombois, Marcus ; Henning, Jan
Engels, Jens Ivo (ed.) (2018):
Relations between the Concepts.
In: Key Concepts for Critical Infrastructure Research, pp. 45-52, Springer VS, Wiesbaden, ISBN 978-3-658-22919-1 978-3-658-22920-7,
DOI: 10.1007/978-3-658-22920-7₆,
[Book Section]

Crespo, Arturo ; Dombois, Marcus ; Henning, Jan (2018):
Preparedness & Prevention.
In: Key Concepts for Critical Infrastructure Research, pp. 39-44, Springer VS, Wiesbaden, ISBN 978-3-658-22919-1, 978-3-658-22920-7,
DOI: 10.1007/978-3-658-22920-7₅,
[Book Section]

Eller, Christian ; Bittner, Timo ; Dombois, Marcus ; Rüppel, Uwe (2018):
Collaborative Immersive Planning and Training Scenarios in VR.
In: Lecture Notes in Computer Science, In: Advanced Computing Strategies for Engineering, pp. 164-185,
Springer, Cham, Workshop of the European Group for Intelligent Computing in Engineering, Lausanne, Switzerland, ISBN 978-3-319-91634-7 978-3-319-91635-4,
DOI: 10.1007/978-3-319-91635-4_9,
[Conference or Workshop Item]

Dombois, Marcus ; Bittner, Timo ; Rüppel, Uwe
Boersma, Kees ; Tomaszewski, Brian (eds.) (2018):
Approaching the criticality of information for emergency response and control center operations.
pp. 388-397, Proceedings of the 15th ISCRAM Conference, ISBN 978-0-692-12760-5,
[Conference or Workshop Item]

2016
Dombois, Marcus ; Döweling, Sebastian (2016):
A pipeline architecture for indoor location tracking.
pp. 1-8, IEEE, International Conference on Indoor Positioning and Indoor Navigation (IPIN), Madrid, Spain, 04.-07.10.2016, DOI: 10.1109/IPIN.2016.7743652,
[Conference or Workshop Item]

Dombois, Marcus
Berthold, Tim ; Brandt, Sebastian ; Schiermeyer, Chris (eds.) (2016):
Vergleich verschiedener Fingerprint-Berechnungsverfahren zur Standortbestimmung innerhalb von Gebäuden.
In: Berichte aus der Bauinformatik, 28, In: 28. Forum Bauinformatik: Tagungsband, pp. 279-281,
Hannover, Institut für Risiko und Zuverlässigkeit, 28. Forum Bauinformatik, Hannover, Deutschland, 19.-21. September 2016, [Conference or Workshop Item]

Dombois, Marcus (2016):
Entwicklung und Vergleich von hybriden Verfahren zur Ortsbestimmung innerhalb von Gebäuden.
TU Darmstadt, [Master Thesis]

2013
Dombois, Marcus (2013):
Einsatz von Microsoft Kinect zur Erfassung der Personenanzahl und deren Wärmeeintrag in geschlossenen Räumen.
TU Darmstadt, [Bachelor Thesis]